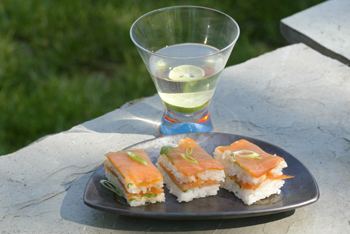 Pressed Salmon Sushi

These sushi pieces are served on a platter sprinkled with scallions, with soy sauce. To dip the pieces, turn them salmon side down; if you dip the rice end first, the pieces fall apart.
Ingredients: Rice (about 30 bite-size pieces)
| | |
| --- | --- |
| 2 1/2 | cups short-grain white rice |
| 2 3/4 | cups water |
| 5 | tablespoons rice wine vinegar |
| 2 | tablespoons sugar |
| 1/2 | teaspoon salt |
Directions: Rice
1.

In a bowl, place the rice and enough water to cover it. Wash the rice by stirring it and draining it. Do this three more times or until the water becomes almost clear. Let the rice soak for 20 minutes.
Drain rice.



2,

In a pot, combine the rice and 2 3/4 cups water. Bring to a boil over medium heat. Cover and cook for 5 minutes. Turn the heat to low and cook 10 minutes more. Turn the heat off and let the rice steam for 10 minutes.



3,

In a saucepan, combine the vinegar, sugar, and salt. Stir over low heat until the sugar and salt dissolve.



4,

Transfer the rice to a large bowl. With large cutting movements, use a wooden spoon to toss the rice without mashing it. Sprinkle the vinegar mixture onto the rice as you toss to coat the grains. Fan the rice to cool it as you mix it. Cover with a clean, damp dish towel.


Ingredients: Topping (about 30 bite-size pieces)
| | |
| --- | --- |
| 3/4 | cup mayonnaise |
| 2 | teaspoons liquid hot sauce |
| | Dash of cayenne pepper |
| 1 | teaspoon dark sesame oil |
| 2 | cups arugula leaves or 18 Shiso leaves |
| 12 | ounces smoked salmon |
| 3 | scallions, finely chopped |
| | Soy sauce (for dipping) |
Directions: Topping
| | |
| --- | --- |
| 1. | Set a 9-by-13-inch pan on the counter. Line the bottom with 2 pieces of plastic wrap, letting 8 inches hang over all sides. With moist hands, place half the sushi rice in the bottom of the pan. Press lightly to make a smooth layer. |
| 2, | In a bowl, stir together the mayonnaise, hot sauce, cayenne, and sesame oil. Spread half the mayonnaise mixture on the rice. |
| 3, | Add half the arugula or shiso leaves and half the salmon slices. |
| 4, | Repeat with the remaining rice, mayonnaise mixture, arugula, and salmon. Fold the extra plastic wrap over the top layer. Place a large book on top and gently apply pressure. Set aside for at least 15 minutes or for up to 1 hour. |
| 5, | Open the plastic wrap and use it to lift out the sushi. Set it on a cutting board. With a wet paper towel, moisten the edge of a sharp knife. Cut sushi into pieces about 1 by 2 inches each. Sprinkle with scallions. Serve with soy sauce |