BERLIN — With the grace of ballet dancers and the strength of weight lifters, Benjamin Tugwell and Timothy Naughton lift a long metal conveyance lined with linen and laden with loaves. They move toward the open doors of a wood-fired oven and guide the board toward the heat. Naughton steps aside as Tugwell tips the loaves onto the floor of the almost 6oo-degree oven. Naughton latches the black metal doors. The bakers move to their next task.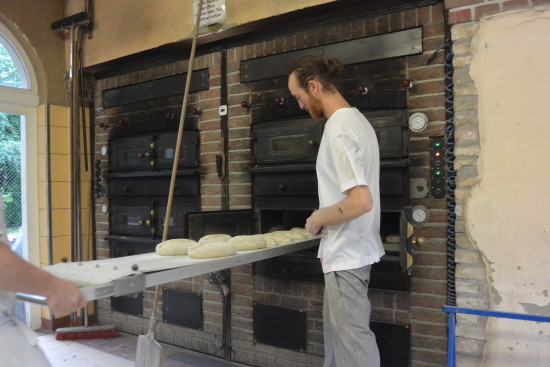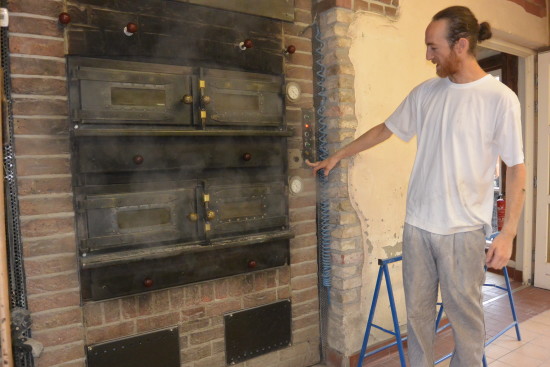 This small commercial enterprise, called Ben's Bakery, is tucked deep into the ufaFabrik complex, in the Tempelhof district, an area known for its former airport and the site of the Berlin Airlift in 1948, which brought supplies past the Soviet blockade of West Berlin. A former film studio and then home to squatters, the buildings are now residences, shops, a martial arts studio, and two baking facilities: Ufa Bakery and Ben's Bakery. The vibe is decidedly hippie, not hipster.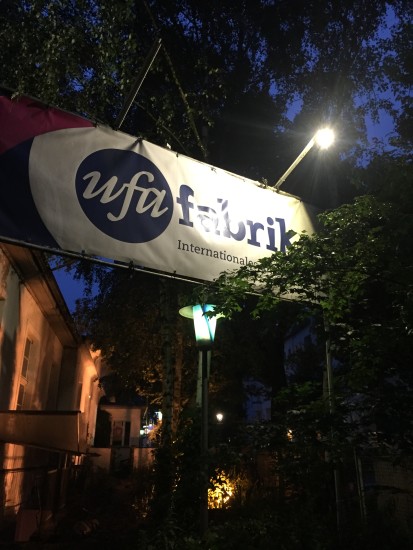 Bio Pool GmbH owns both bakeries, and the organic supermarket chain, LPG Biomarkt, where the breads are sold.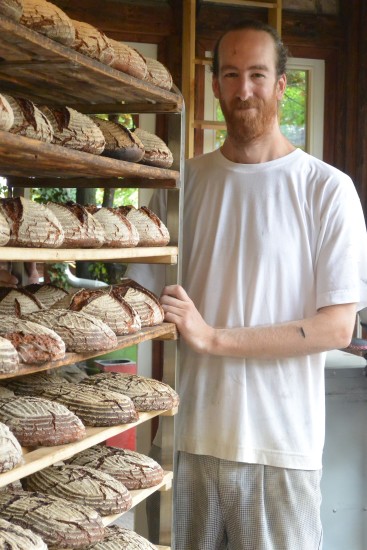 At Ben's Bakery, named for Tugwell, 28, an American — Naughton is Australian — the breads are dense, tangy, organic sourdough loaves made with rye, spelt, and wheat flours grown in the central eastern German state of Sachsen-Anhalt, and filled with seeds and nuts.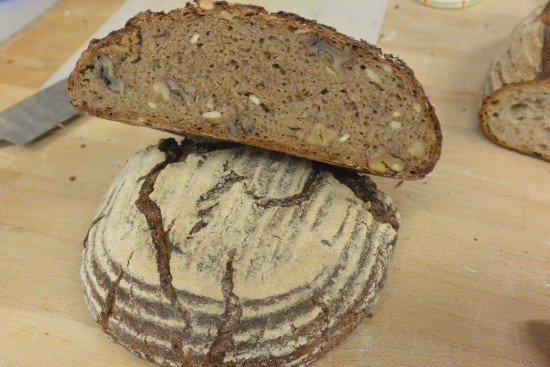 The company thought there was cachet in having a Californian bake German breads, which Tugwell gave names like Montana (wheat and rye flours with rye sourdough, and spices) and Everest (whole-grain rye with whole-grain rye sourdough).
A soothing soundtrack provides the background in the bakery, which is not open to the public.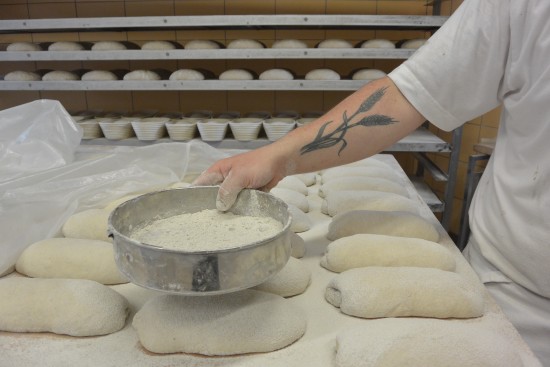 To line the linen belt with unbaked rounds, Tugwell gingerly flips them into position. As they rise, fissures form on the tops.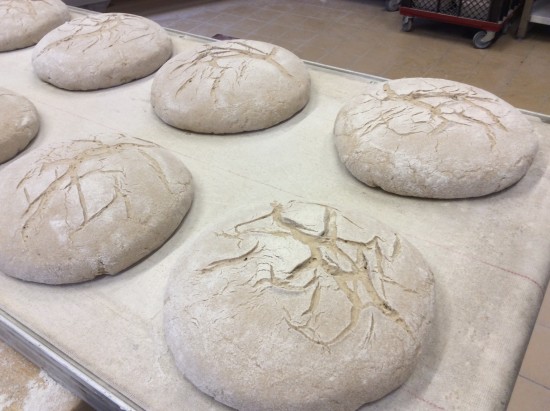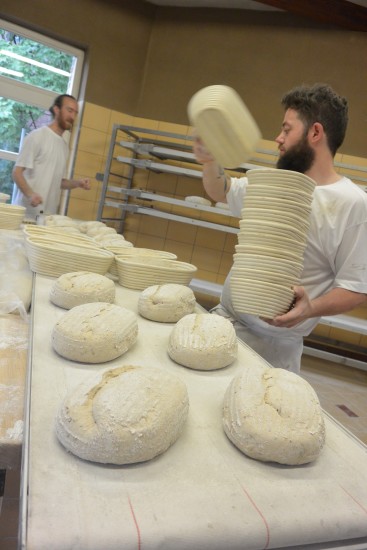 Along one wall on shelves, rattan proofing baskets cradle the loaves, the spiral pattern imprinting on the dough. Naughton shines a flashlight into the deep ovens to check the baking loaves. Halfway through, he will remove, turn, and reposition them.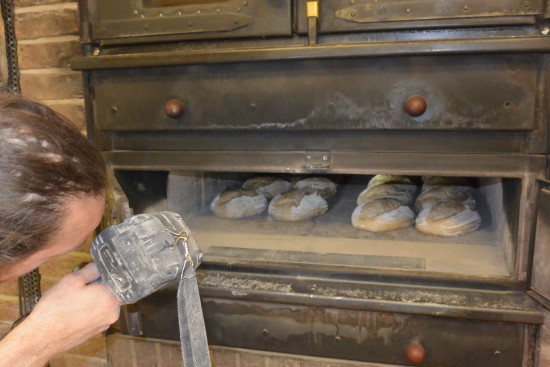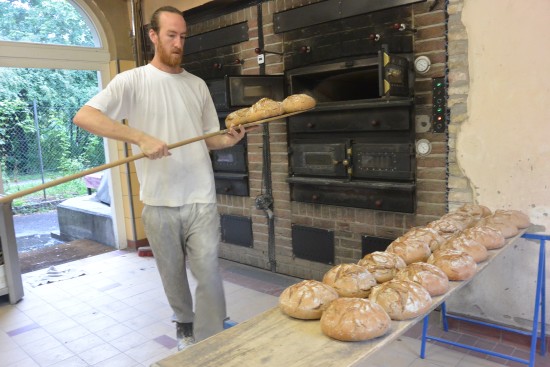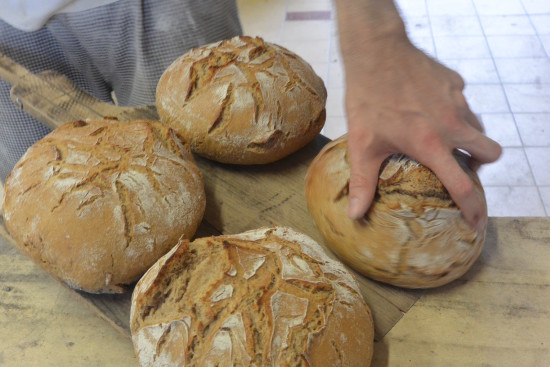 In 2008, Tugwell was in Pasadena, Calif., studying at Le Cordon Bleu. His girlfriend (now his wife), Amanda Ribas, decided to study photography in Berlin so Tugwell followed her. "I quit for love," he says. Without knowing the German language, he landed a job at Soluna Brot und Oel, a bakery owned by Peter Klann, well-known for his 100 percent rye bread baked in a clay oven. Klann became Tugwell's mentor, and there he met Naughton, an experienced baker who trained in Australia and came to Germany, "because it was the mecca for bread."
Tugwell and Naughton are part of a new generation of young, well-educated people who are reinventing themselves as brewers, bakers, and cheesemakers, says Ursula Heinzelmann, author of "Beyond Bratwurst: A History of Food in Germany," and "Food Culture in Germany." "The older generation learned how to do things but rarely [were told] why. This group is assuming the responsibility for the whole process," she says.
Tugwell and Ribas returned to California, where he baked until 2012 when Klann, who was ill, asked him to come back. This time it was Ribas who followed. "We decided to go for broke, got married, and came back to Berlin," says Tugwell.
Klann passed away in 2013 but one of his clients, LPG Biomarkt, created a bakery and hired Tugwell, who brought Naughton along. Tugwell enrolled in Akademie Deutsches Backerhandwerk and 13 grueling months later earned the Backermeister certification needed to run a bakery.
Once the breads are out of the oven, they go onto a wooden rack. This is a batch of rye ovals with walnuts and sunflower seeds.
They hiss and crack as they cool and "cure." Tugwell calls the sounds "the song of the bread," and writes in an e-mail that Klann taught him "never eat a dark rye bread the same day. It needs a day to mature." These are long lasting breads, says the baker, because the thick crust helps keep out bacteria.
The activity begins to wind down as Tugwell mixes rye flour and sunflower seeds, and adds water from a hose to soak for tomorrow's Everest bread.
In the warmer months, when there is less demand, an average day at Ben's Bakery is nine hours, producing up to 1,500 loaves a week. During the winter, the place can make 2,200 a week and the bakers work 12-hour shifts.
The only remnants of flour in the bakery now are on the tips of Naughton's shoes as he drags the broom across the floor. Tugwell consults his notebook for the next day. Then he breaks one of his own rules. He pulls out a knife and cuts into two warm loaves, offering slices with a smear of butter.
You don't need another thing.
Watch Ben and Tim in the bakery
BEN'S BAKERY  breads available at LPG Biomarkt and farmers' markets. For locations go to www.lpg-biomarkt.de/en.