Much is being made about matcha. From lattes and shakes to ice cream and baked confections, the bitter, mossy green powder, a specially processed tea, is turning up everywhere. Matcha is being treated as the perk-me-up of the moment in themed matcha bars from Brooklyn to Berlin.
Today's global matcha is a long way from its highly refined origin in the Japanese tea ceremony, where the handling of the powder, the ceramic drinking bowl, and the bamboo whisk converge. In the ritual, the unadulterated foamed drink is consumed in a few sips, the bitterness offset by an accompanying intense, elegant confection. Now retail shops are using electric frothers to make matcha lattes, serving them in paper cups, and pastry chefs are concocting all sorts of sweets with the green powder. Mention matcha and everyone's on board.
At the new Ogawa Coffee shop in Downtown Crossing, matcha lattes and smoothies are as popular as they are in the shop's locations in Japan. The smoothie is made with homemade matcha paste (it begins with the tea powder). In an industrial blender, a server combines a generous dose of the paste with heavy cream, vanilla ice cream, ice cubes, and milk. The verdant mixture is topped with a swirl of whipped cream and dusted with matcha powder.
In Brookline, Japonaise Bakery and Cafe offers a milkshake with matcha ice cream, matcha powder, and milk, delivering a full-bodied matcha hit.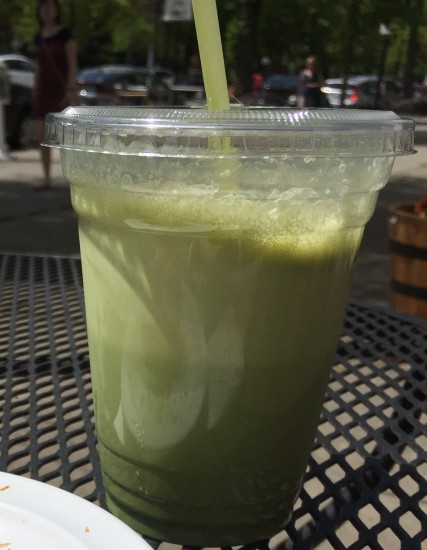 Iced matcha lattes are also made at Peet's, Starbucks, and other coffee shops.
Matcha has long been valued for its health benefits, believed to reduce stress, control blood pressure, enhance the skin, and aid in weight loss. This and matcha's slower release of caffeine have captured the consumer's fancy.
Like vanilla, chocolate, maple, and other distinct flavors, matcha has its own personality, often thought to be an earthy lush freshness. Because it pairs well in both sweet and savory dishes, it's becoming the defining element in ice creams, cakes, soba noodles, even salt. According to Kenichi Kano, director of Ippodo Tea Co., a 300-year-old tea manufacturer in Kyoto, who was visiting Boston recently, Japanese cooks began experimenting with matcha as an ingredient in ice cream parfaits some 30 years ago. Soon bakers and chocolatiers followed suit.
Matcha growers in Japan, and increasingly elsewhere in Asia, shade young tea leaves for several weeks, enabling them to retain their nutrients and the intense color of early spring. After harvesting, the caffeine-rich leaves are steamed, their stems and veins are removed, then the leaves are dried and ground into a fine powder. All green teas are high in vitamins and anti-oxidants, but it is the direct delivery of the entire leaf with its highly concentrated nutrients and caffeine that has so captivated the public.
Jorge Villalobos, 27, bounds into the Burlington location of Teavana for his daily dose of matcha. He had been looking to switch from coffee without quitting caffeine. "It is an acquired taste," says Villalobos of his new drink, "not something you automatically love." But now he drinks it straight without sweetener or milk, over ice in a 16-ounce cup. Manager Tim Dammers, 23, makes the drink using only about 1 teaspoon of matcha powder for 10 ounces of hot water (precisely calibrated), and froths it with an electric wand to create an impressive foam canopy.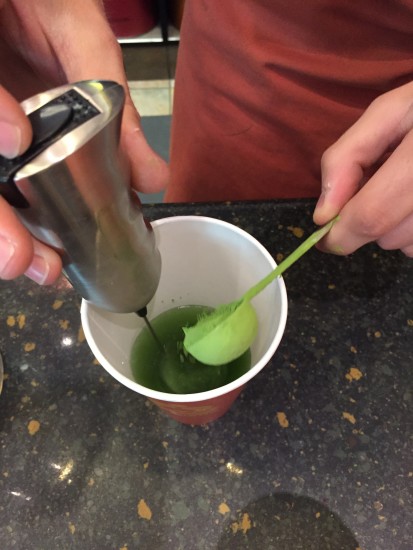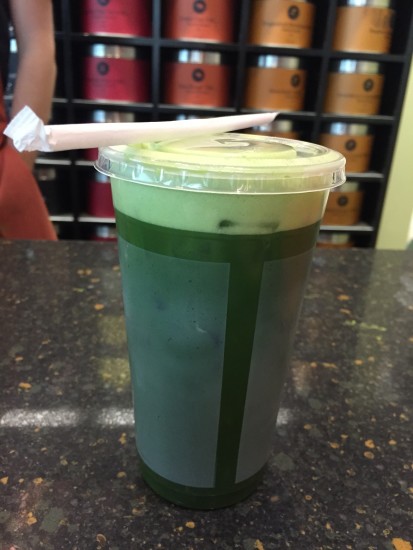 Teavana, owned by Starbucks, sells about 1.4 ounces (40 grams, for about 24 servings) of loose powder for $25.
To make a drink, pure matcha powder should be sifted and mixed with water into a paste. For baking, the powder is sifted with the other dry ingredients. New products like Matcha Booster, from the tea company Maeda-en, provide a ready-to-use-matcha for stirring into any drink.
Kano, who does workshops on green teas around the world, has noticed a trend at Ippodo Tea, New York, the only shop his company runs in this country. "Recently about 70 percent of our business is for a matcha product," he says.
The once esoteric green powder is suddenly everywhere — generating every kind of buzz.
IPPODO TEA, NEW YORK
125 East 39th St., New York, N.Y., 212-370-0609. www.ippodo-tea.co.jp
JAPONAISE BAKERY AND CAFE
1020 Beacon St., Brookline, 617-566-7730
MAEDA-EN
www.maeda-en.com
(Look for their free e-book for matcha recipes)
OGAWA COFFEE
10 Milk St., Boston, 617-780-7139, www.ogawacoffeeusa.com
TEAVANA
Burlington Mall, 75 Burlington Mall Road, Burlington, 781-272-7233, and other locations. www.teavana.com
Matcha powder available at Ebisuya, 65 Riverside Ave., Medford, 781-391-0012, and
HMart, 581 Massachusetts Ave., Cambridge, 857-209-2747, and 43 Middlesex Turnpike, Burlington, 781-221-4570
** I am in Berlin for 6 weeks this summer and our apartment is across the street from the only tea shop devoted to matcha in Europe! What serendipity as I was working on this article for The Boston Globe. The shop is in Prenzlauer Berg, a leafy, lovely and trendy area, in former East Berlin, not far from Alexanderplatz. I got a chance to meet the owner, Florian Rosch and taste their delicious velvety smooth Matcha Cocos Latte, made with coconut. The coconut with the matcha was an inspiration. More proof that matcha pairs well with so many different flavors. Bosch said it is great to "bring matcha into a new era." And to a new clientele — about 70% of his customers are looking for the health benefits said to be in green tea and matcha in particular in higher concentration.
A plate of  tender buttery matcha cookies sat on the counter for tasting made by a young woman, Mari(half Japanese and half German) who is a professional baker. She makes  deletable confections with matcha for the shop and has a wonderful blog, in German, called Kazuo. Even if you can't read German the photos are great.
Matcha Shop, 18 Belforter Strasse, Berlin, Germany, 030/65774968